Saturday Scene...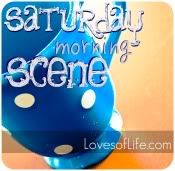 On Sunday. Hey, better late than never, right??
I worked yesterday so it was a busy day. After work we loaded up baby and went to the Home and Garden show in an attempt to idea shop for summer projects. I write that like I was idea shopping, in all reality Hubby and his dad were doing the 'shopping' if you will. This year the fun exhibit inside was a little garden area made out of balloons. Camden enjoyed the balloons and I thought the little garden gnome made out of balloons was cute, so we stopped and posed for a picture.
Camden was well behaved despite not getting a nap. He just people watched and constantly kicked his little feet. I was impressed. He must take after Dad, just gotta have something to do!
Afterwards, we went to dinner at Olive Garden, where I managed to eat my weight in salad. It is SO good there! Camden started to get a little fussy, but he hadn't eaten in about five hours so I couldn't blame him! We fed him while we ate and then it was time for home and bed, time to get ready to 'spring forward'!
And that was Saturday, in a nutshell!