Merry Christmas!!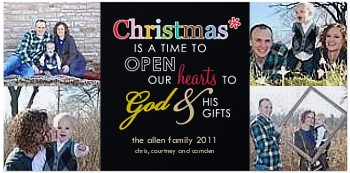 Open Our Hearts Religious Christmas Card

This is our awesome shutterfly Erin Condren greeting card. I LOVE IT! I am a big fan of the Erin Condren stuff, and it just so happened that with discounts and promotions I was able to afford these this year! So cute, right??
Besides the cuteness of the greeting card (it really is the little things), the message on the card is the most important part. God, and his many blessings.
This year in church Pastor Craig took Christmas Carols and dissected a line from them and made it a message. One of my favorite songs this year was O Holy Night, and the phrase he chose to focus on as "the weary world rejoices". When you really look at the lyrics to this song, you realize how similar this song is to current happenings in the world. The world in sin and error, lost and sad, but we have the thrilling promise that he will return again, and we can only imagine how divine it will truly be! What a spectacular time Jesus' birth was - for a hurting world!
We are so truly blessed that God sent his son, such a perfect and giving son.
Merry Christmas to all, I hope you spend this time happy and close with friends and family.
O Holy Night! The stars are brightly shining,
It is the night of the dear Saviour's birth.
Long lay the world in sin and error pining.
Till He appeared and the Spirit felt its worth.
A thrill of hope the weary world rejoices,
For yonder breaks a new and glorious morn.
Fall on your knees! Oh, hear the angel voices!
O night divine, the night when Christ was born;
O night, O Holy Night , O night divine!
O night, O Holy Night , O night divine!